Talon
From Zelda Legends Wiki
Description
Overall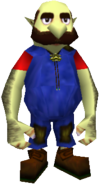 Ocarina of Time
Oracle of Seasons
The Minish Cap

Talon is very forgetful here. He somehow manages to lock himself and Malon, his daughter, out of their own house. After retrieving the key, he'll thank you and give you permission to pass on through his house to Lake Hylia.
Four Swords Adventures
Miscellaneous Notes
Oracle of Seasons
Normally Talon has long ears common to the Hyrulean people. In Oracle of Seasons, he has normal, rounded human ears.
Majora's Mask
While Talon does not appear in Majora's Mask, his design is the base for inn keeper.
Relevant Quotes
Ocarina of Time
Oracle of Seasons
The Minish Cap
Translations
| | | | |
| --- | --- | --- | --- |
| Country | OoT | OoS | TMC |
| Japanese |  ??? ('TARON') |  ??? ('TARON') |  ??? ('TARON') |
| English | Talon | Talon | Talon |
| French |  ??? |  ??? |  ??? |
| German |  ??? |  ??? |  ??? |
| Spanish | - |  ??? |  ??? |
| Italian | - |  ??? |  ??? |
See also